The Mine
by John A. Heldt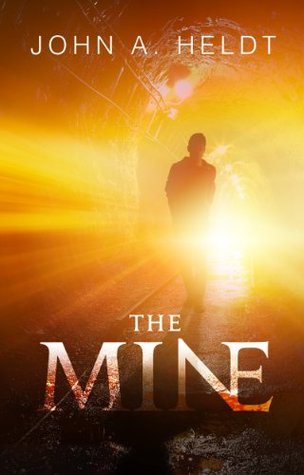 In May 2000, Joel Smith is a cocky, adventurous young man who sees the world as his playground. But when the college senior, days from graduation, enters an abandoned Montana mine, he discovers the price of reckless curiosity. He emerges in May 1941 with a cell phone he can't use, money he can't spend, and little but his wits to guide his way. Stuck in the age of swing dancing and a peacetime draft, Joel begins a new life as the nation drifts toward war. With the help of his 21-year-old trailblazing grandmother and her friends, he finds his place in a world he knew only from movies and books. But when an opportunity comes to return to the present, Joel must decide whether to leave his new love in the past or choose a course that will alter their lives forever. THE MINE follows a humbled man through a critical time in history as he adjusts to new surroundings and wrestles with the knowledge of things to come.
My Take:
The romance in this book is reminiscent of The Rocketeer, A beautiful girl, a handsome guy, the backdrop of World War II impending. Wait, was The Rocketeer from WWI? What was missing in the story was a significant antagonist. Mainly, the biggest antagonist in the story was the main character and his flaws, and the truth he really couldn't share.
Joel Smith struck me at first as an over-the-top unlikable playboy who defied authority and was only interested in his own pursuits and his own way. His winning charm and good looks got him through many scrapes, and his easy way of lying to friends and family was almost disturbing.
His wit and offhanded dry thoughts and comments were hilarious though, and kept me coming back for more, to see what the Connecticut Yankee would say in King Arthur's Court.
The author obviously did some serious research into life and history in 1941, and his settings and situations were believable. The backdrop of a world spinning out of control on the brink of its greatest and therefore worst world war was immersible.
Joel, as the story progresses, has to come to grips with his selfishness and cavalier attitude, and the damage he is dealing to those closest to him, as he considers returning to the present or spending the rest of his life with the woman he loves in the past.
Content:
Drug Content:
PG - This book has casual drinking in nearly every get-together. The characters are now, for the most part, over 18, but there's discussion of underage drinking and fake ID cards, and one character has a drinking problem, which she manages to overcome. Cigarettes, as well, are quite present, after all, the setting is before the surgeon general's warnings. Joel admonishes one person to quit for her health.
Gambling (ok, that's not drugs, but another vice) is one character's problem, and the main character uses his knowledge of the future to have several dramati gambling wins.
Violence:
PG - There are several somewhat graphically described fistfights and one boxing match.
Language:
PG - the story starts out with quite a bit of cussing at the beginning, which peters out as the story progresses. The F bomb is never used, nor is GD in the book.
Adult Content:
PG-13. There are multiple references throughout of the main character's various exploits, but not in any detail. There is a bit of waitress-watching and rating, and one sex scene that does not go into any graphic detail.
Christian content:
Not a lot. God is mentioned, multiple times, and not as a swear word. There are a few mentions of church attendance but not much faith or dependence on God is evident and no praying for deliverance.
Final analysis:
The Mine is a history lesson, an entertaining, witty, well-written trip to the past, with a lot of college angst thrown in, a Fantasy Time-Travel Romance with a devilishly handsome guy and a few drop-dead gorgeous girls. A riches to rags to riches story with a few plot twists to keep you guessing. Five Stars.
About the Author:
John A. Heldt is the author of the critically acclaimed Northwest Passage and American Journey series. The former reference librarian and award-winning sportswriter has loved getting subjects and verbs to agree since writing book reports on baseball heroes in grade school. A graduate of the University of Oregon and the University of Iowa, Heldt is an avid fisherman, sports fan, home brewer, and reader of thrillers and historical fiction. When not sending contemporary characters to the not-so-distant past, he weighs in on literature and life at
johnheldt.blogspot.com
.