As summer winds down and the grass needs to be cut a bit less, I'm hoping to find time to crank through a few good reads in my downtime hours. Below is a list of what I've got in the queue that I hope to chug through and review for you.
Guitar Practice: Learn to Play Like a Professional Musician
by
Leo Doran
Discover the mindset needed to become the best guitar player you can be and find the motivation to get over the dreaded plateaus
Perhaps one of the most difficult tasks new and experienced guitarists face is the dreaded "plateau". This is a time during your guitar playing journey where you feel that you have reached you musical potential. The truth is there is no ceiling to your potential. You can always make progress.
Re-Ignite Your Passion For Music
Create Goals and Achieve Results
Learn to Be Consistent with Great Practice Habits
This book will go into detail about setting goals and finding your passion for playing again. Readers will re-learn the necessary practice techniques that are the building blocks to any great guitar players repertoire. You will also learn important growth mindsets to re-wire your thinking and get you motivated again. Finally you will learn about the best habits to insure your success over the long term.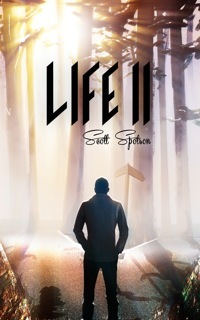 Life II
by
Scott Spotson
Upon discovering a 1958 book titled "Account of Time Travel on Earth Using Wave Theory," 42-year-old Max Thorning's life is thrown into chaos. Seeking answers to the book's cryptic clues, he discovers Dr. Time, a seemingly benign alien who has control of the Time Weaver, a remarkable device that can command any scene from the Earth's past. Dr. Time offers him a choice to go back into Time, to any point in his lifespan that he can vividly recall. The catch: he can only bring his memories, and can only live the future one day at a time. Follow Max's dilemma as he goes back to his 16-year-old self and tries to forge his destiny into a new one called Life II.
Which Half David
by Mark W.Sasse
American mission worker Tobin Matthews becomes a local hero and celebrity in the Sulu Republic when he inadvertently foils a gang of human traffickers. But the heroism cannot mask his desperate soul, which wrestles with a broken marriage and a crippling set of doubts. As he sinks to a new low, his brazen ex-lover arrives in Sulu with her own agenda. The Asian beauty quickly becomes the greatest temptation of his life, and he must decide how far he is willing to go to have her.
Which Half David is a modern twist on the centuries old tale of King David. Set against the lush backdrop of the fictitious Southeast Asian island nation of Sulu, it is the story of one man's dramatic fall from grace, and his struggle to come to grips with both halves of who he really is.
My Wizard Buddy
by
Scott Spotson
One day, lonely 11-year-old Tyler Dunsmore wishes out loud for a best friend. Not only does his wish come true, but his new best buddy is Dirk, a 11-year-old wizard--a magical being who is from another world and is unfamiliar with Earth. Dirk often is too eager to help Tyler out with tough dilemmas in his day-to-day life, but his antics often backfire, leaving Tyler to wonder: is having a wizard for a buddy worth it? Enjoy the bonding between two very different boys in My Wizard Buddy.
Fallen: A Henry Shepherd Novel
by
Michael Ozarks
When his young wife dies two months after the birth of their son, Brandon is torn between surrendering to debilitating depression and surviving to raise the helpless remnants of his new family. In this cathartic confession, he drudges up the troubled details of his past, hoping to equip his children with a fulfilling and empowering perspective on who their parents were—and on what really matters in the vapor that is life.
Hire Train Monitor Motivate: Build an Organization, Team, or Career of Distinction in the Transformational Workplace
by
David J. Waldron
The transformational workplace of the twenty-first century is front and center. Are you ready to navigate its twists and turns toward reaching your career goals and dreams? In Hire Train Monitor Motivate, author and veteran organizational leader, David J. Waldron, offers powerful, yet simple techniques that can dramatically improve your organization, team, or individual career achievements in today's hyper-competitive local and global marketplaces.
This practical book will teach you how to master the art of workplace effectiveness by first making a lasting commitment to placing people first, whether a customer, recruit, staff member, or coworker. Then hire, or get hired for an optimistic mindset; train, or be trained for delivering quality products and services; monitor, or allow monitoring for regulatory compliance; and motivate, or stay motivated for enduring performance.
As a practitioner more so than an academic, Waldron, presents unpretentious, everyday workplace rules that when implemented, or followed, can transform your organization, team, or individual career to one of lasting distinction. Master the proven techniques for playing the game the right way and learn how to practice leadership or teamwork by inclusion toward making your workplace a great place to learn, earn, and grow.