Today, I'm taking a break from the Review circuit to interview one of the authors in my reading list. She is Katheryn Maddox Haddad, the author of Paul the Unstoppable, one of her Intrepid Men of God series.
Katheryn, thanks for joining me today. You seem to be quite a prolific writer.
I'm interested to know how you got started writing.
I was first published at age 10 in 1950 when I showed my school teacher a poem I had written about Abraham Lincoln. A couple weeks later she said, "look in the newspaper when you get home tonight." And there was my poem!
I began my eight-volume life of Christ, "Soul Journey With the Real Jesus" when I was 17 years old and finished it when I was 60.
That's quite a span! I'm sure a lot of work went into that series. What books, other than the bible, have most influenced your life?
"Christ of the India Road" by E. Stanley Jones taught me to adjust to whatever circumstance I am in, to respect what other people say and do, and be willing to go where living is inconvenient.
"The Good Earth" by Pearl S. Buck about three generations in China (she lived there). The first generation went from rags to riches, the second generation remembered growing up poor and enjoy their father's riches, the third generation took it for granted and squandered it and ended up poor. I think it is a typical scenario that I often take into consideration when around someone who is rich or poor.
"Mere Christianity" by C. S. Lewis who was a philosopher in England who argued himself from atheism to a strong faith in God.
Mere Christianity has had an impact on so many lives. You seem to have a very strong faith. Often faith like that is forged in the fire. Is there a story from your past that you'd be willing to share, about when that faith was challenged or tested?
Believe it or not, though I was "raised in the church" with faithful parents, I have always had to fight for my faith ~ whether God existed. The first time it happened was in college in the 1950s, so I took a course about it; that's when I learned about C.S. Lewis.
The second time it happened was when I was around 28 years old and had just begun a very successful all-summer VBS in a little town of 597 people, enrolling 80 kids. I read David's Psalm 42 where David's logical mind has a debate with his doubting soul. Often he said, "Why are you so downcast, oh my soul?" then he would answer himself, "Hope in God and you will yet praise him." I would get out my C.S. Lewis notes and read and reread them.
I guess it hits about every ten years. It has hit me again recently. It seems to always hit when I am the strongest. When it happens, I let my logic take over because logic tells me there has to be a God, and I pray to the God I am doubting, "I cannot find you. Please do not let me go." That is why I wrote my 8-volume "Soul Journey With the Real Jesus". I dedicated it "To Everyone Who Has Ever Doubted". It is about 100 people Jesus met and struggled with.
Doesn't it seem that Satan attacks us when we're on a spiritual high point, often after some victory? How many of us have cried out with the epileptic's father, "Lord, I believe! Help my unbelief!"
We all need a hero, and you've written about quite a few from the bible. Tell us which biblical hero most inspired you?
Esther. Mordecai told her "Who knows but that you were put in the kingdom for such a time as this?". Since I learned that at an early age, I have always asked myself when needs came up around me, "Who knows but that you were put in this spot for such a time as this?".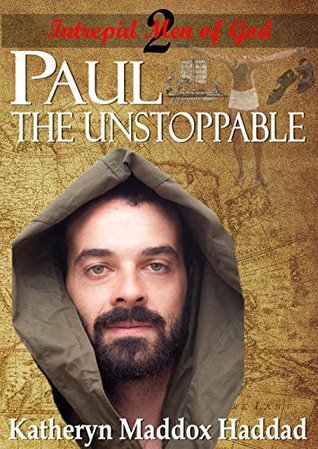 Concerning Paul The Unstoppable, what was the hardest part of writing this book?
First, I want to say that the easiest parts were where I described the emotions he was feeling at different parts of his life. I always go into slow motion in my writing when describing strong emotions or life-threatening events.
The hard parts were two fold. First, I needed to make sure it was historically accurate. I researched all day every day for two months. I have two 3" notebooks full of my research. I knew he had to be strong to have been able to tread water "in the deep" for a day and night, and in his writings he often spoke of fighting the good fight. So I made him as a young man an Olympian hopeful in boxing, requiring of course, that I research bare-knuckle boxing. I researched what it was like to live in the desert of Arabia and what the Bedouins were like. Because he was beaten nearly to death so many times and apparently needed a personal physician the last ten years, I researched the effects of beatings and scar tissue, as well as medical techniques needed then. I researched which roads existed then. I researched each city and province he went to (there were soooo many) ~ who was ruling at the time, their language, their religions, what the people normally looked like, and an outline of their city if possible so I could tell where the streets and buildings were. And other things I researched.
Second, it was difficult for me to write the in-between times. It's easy for me to write about exciting things going on. But what was it like for Paul walking and walking and walking down a lonely road to get to his next destination? I knew I needed to include those boring parts of his life and not make them boring.
I suspect you have lived a full life, one with plenty of God moments. Tell us about one of the times when God stepped in and you saw His hand at work in your life.
No one special moment. But I can recall three seemingly mundane things that have influenced me.
First, starting from the time I was 7 or 8 years old and we would be standing around in the lobby before church, my mother would say, "See that new child who just came in the door? Go over and welcome him/her." So at an early age I learned to reach out to people, including strangers.
Second, I had a friend during the Viet Nam War whose husband was "over there" in the fighting just like mine was. We encouraged each other. She knew about my writing beause I had showed her short things I had written. She told me one day, looking sternly in my eye, "Katheryn, you must write. For you not to write is a sin."
Third, my husband passed away 2-1/2 years ago. Although I wrote a few books while he was still alive and put them away in a closet, after he died, I turned to my writing to fill my days. At first it was good therapy for me, but now it is my life.
Just reading your bio, you are amazingly busy! When do you find time to write? Is there a particular place or time that is most comfortable for you to write?
Because I live alone, I have my choice what to do with my days. I could be out in the community doing all kinds of things. But I choose to stay home and do the two things closest to my heart.
First, I set aside four hours a day to teach English over the internet to Muslims using the Bible as a text book. I have taught nearly 6000 so far, and have converts to Christianity in hiding in Afghanistan, Iran, Iraq, Somalia, Yemen, Jordan, Palestine, and Uzbekistan. I also wrote a small book contrasting Christianity to Islam, just quoting from the Qur'an and quoting from the Bible on the same subjects, so it is not biased. There are other things in the book. Toward the end are anonymous statements from nearly 100 of my Muslim students who have decided Jesus truly was the Son of God and not just a prophet, and it ends with "An Open Letter to Our Muslim Friends". It can be given to a Muslim without offending them.
Second, I set aside twelve hours a day to write. I can usually write three chapters of ten pages a day. However, if I have to stop and do a little more research on something (did people of that nationality wear beards then, etc?) I write two chapters a day.
I start out the day on my patio with a comfortable chair throw rug and pictures. I have a ceiling fan for the summers and an electric fireplace for the winters. When it becomes too hot or too cold out there, I come in and sit in my livingroom with my laptop and my feet propped up.
I imagine, like Paul, you are a bit 'Unstoppable'. I doubt you are done writing, so tell us, what writing project are you currently working on?
I wrote ten non-fiction books on topics like Revelation, the Holy Spirit, good works, church history, etc. and they got good reviews, but not many sales. So I switched to historical novels. That's when things took off and usually stay in the top ten in Amazon ranking in their category. Then I knew that's what would reach out to the masses. My INTREPID MEN OF GOD series includes "Lazarus: The Samaritan", "Paul: The Unstoppable", "Luke: Slave & Physician" and "Mefiboset: Crippled Prince".
I am now working on "Joseph: The Other Father". What an immense responsibility was placed on this man's shoulders! Did you realize God appeared to Mary one time, but to Joseph four times. This is something I wrote when Jesus was four years old, they were still in the desert leaving Egypt and it was night:
Joseph looks down at the innocent Jesus and cradles him in his big arms as he walks over to a nearby boulder. He sits and watches the boy in his slumber, taking smooth, even breaths.




"Oh, my son, my son," Joseph says softly. "What is ahead for you where we are going? Will there be others that rise up and try to kill you?"




He sways back and forth and looks up at the stars.




"What awaits you there, little boy? What challenges? How long will you be able to stay happy and carefree? How long will you be able to laugh easily and chase the squirrels and wiggle your little toes?"




He stares at an especially bright star, and sways still.




"I feel so inadequate, Father. I do not think I will ever understand why you chose me. Help me. Never leave me. You promised you never would. Sometimes I feel so overwhelmed."




Silence as he watches Jesus' little chest rise and fall, and his breathing come easy and soft and smooth.




"It is going to be dangerous for him again, I fear. Oh, I know you said King Herod is dead. But now the fight for power begins as people rise up to take his place. Will little Jesus be in on that fight? Don't let him be, Father. He is still too young. Oh, I realize you know that. But, I have to talk to someone and explain what I am feeling."




He looks off into the darkness.




"How will he do it? How will he rise up to be the beloved divine king of the world? I do not understand. But I do not guess I need to understand." Joseph pauses momentarily, looking back at Jesus' lovely little face.




"Does he know yet? That he is your Words on earth? Sometimes I think he senses it, the way he is with animals—even the little ants and crickets and butterflies. He really loves them. Sometimes I think he feels he needs to protect them."




Joseph rocks little Jesus awhile, then stands and walks in a large circle. He hums. Sometimes he draws the little boy close to his chest as though trying to protect him from the whole evil world, then goes back to rocking him.




"Sleep on, my little boy. Sleep and dream and grow up to be as good and innocent as you are now."




Joseph sits back down and leans against the same boulder. He leans his head back and hums a song of strong tenderness. Then it is dawn.
What is your preferred method to have readers get in touch with or follow you (i.e., website, personal blog, Facebook page, here on Goodreads, etc.) and link(s)?
My website is www.inspirationsbykatheryn. It shows all my books by category. Followers also received an inspirational message from me in their mail box every day. Readers can reply to those daily inspirations, or there is a "contact me". Readers get information about each book including reviews, and a convenient buy-now button that takes them directly to Amazon.
I have a Facebook page but have nearly 4000 in my profile page, so only respond to comments about whatever inspirational message I send. https://www.facebook.com/katheryn.haddad.author?fref=ts
I have another Facebook page that is not very conducive to conversation, though I will respond to comments on an inspirational thought. Also, a person can order a book directly from that website. https://www.facebook.com/KatherynMaddoxHaddad
If anyone wants the inside scoop on what I have recently written, they can sign up for my monthly newsletter which is colorful and not very long. http://bit.ly/1xKBK4B
My email address is haddad1940@yahoo.com Be sure to put something in your subject line so I don't think it is spam.