Paul the Unstoppable
by
Katheryn Maddox Haddad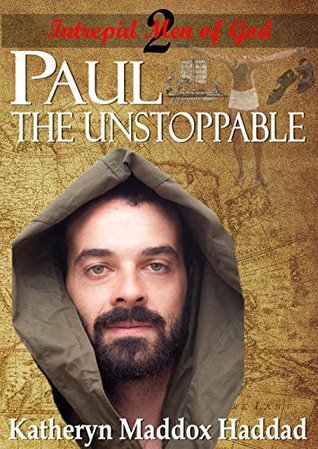 The Apostle Paul is strong. And unstoppable. He walks thousands of miles. He is driven by one goal: Tell everyone about Jesus, their new king. He allows nothing to get in his way.
Dare to experience with him every rod slamming into his bones, every whip lashing through his skin, every breath struggled for when treading water a day and night. Survive with him through all the ship wrecks, going days without food, a snow storm in the Taurus Mountains, being robbed on the highway. Listen as, each time his body is mercilessly attacked, he calls out, "Jesus! This is for you!"
Discover what makes this man tick. In this present-tense book, you will walk with him over twenty years of crisscrossing the often hostile Roman Empire, challenging pagan priests and trying to convince Jewish rabbis to listen to him. Understand what Barnabas, Silas, Timothy, and Dr. Luke go through to keep this man alive to do what he has to do. With Paul, it is never enough. What drives him? Why can he not stop?
My Take:
Saul the Pharisee was an up-and-coming zealot whose thirst for religious excellence led him to the Sanhedrin. But the unlikely and dangerous prophet Jesus of Nazareth threatened everything he was working for, and questioned the very ideals Saul upheld. Saul worked to see the man put to death, expecting that would be the end of the story. But it was only the beginning.
Travel with Saul on a journey to destroy this new sect following Jesus, and experience with him the 180 he took on the road to Damascus, as Jesus gives him a wake-up call he would never forget. Saul's new task is to spread the gospel to the ends of the world, and no one ever took that task more seriously. Nothing stopped him, not stoning, being beaten half to death, receiving 49 lashes repeatedly, threat of sword or shipwreck, nakedness and starvation.
This tome chronicles Paul's life from shortly before the crucifixion, to his last days in a Roman dungeon. I spent a significant amount of time fact-checking, and found only one thing that didn't line up with scripture. Even that would be open to conjecture. Paul's adventures as he shares the gospel around the known world is simply amazing. I was brought to tears by the remorse and shock Paul went through when he found out he was wrong about Jesus, and Erastus who nailed Him to the cross, when he came to faith. So many places in this story where I wept with the saints over joy or sorrow, and raged over the horrible treatment of the Christians, and Paul in particular, by those opposed to the Christian faith.
Content:
Violence:
PG-13 This story starts out with a brutal boxing match, and chronicles stonings, bludgeonings, floggings, and crucifixions. By the end of his life, after five floggings of 49 lashes each, Paul's back is nothing but scar tissue and muscle tissue. The physician Luke treats him for many of his varied injuries and punishments, and some of the treatments, and descriptions of his injuries, are graphic. Nero torching the Christians to light his amphitheater is discussed briefly.
Drug Content:
PG - Opiates are used to treat Paul, and alcohol is consumed with relative frequency, but it's often referred to as 'new wine', which may mean grape juice.
Language:
G - There's none at all that I can recall. Even with the torture, floggings, angry outbursts, and calls for death, it is squeaky clean.
Adult Content:
G - No romance, no adultish themes. Even the Corinthian debauchery is glossed over, and the role the priestesses play in prostitution in the various Roman and Greek temples is hidden from view.
Christian content:
This book is the story of the apostle Paul's conversion and life as an evangelist. It covers his missionary journeys, and clearly presents the gospel message in countless places. Much of the epistle content of the New Testament is condensed and presented. All books of the New Testament attributed to Paul or Luke are discussed and depicted. Spiritual warfare and demon possession are covered. Spiritual gifts are depicted well.
Final analysis:
The book was immersive, gripping, moving. It captured Paul's unbelievable tenacity and determination, and the people around him and their struggles and triumphs very well. No doubt this work of 'fiction and non-fiction' would make an incredible addition to the library of a biblical scholar. The work transported the reader deeply into the culture of the first century and the trials Paul faced in getting the Word out to the known world. Five Stars!
About the Author:
Katheryn Haddad hails from Arizona with palm trees and cacti in her yard, and a computer with the key names worn away.
With a bachelor's degree in English, Bible and social science from Harding University and part of a master's degree in Bible, including Greek, from the Harding Graduate School of Theology, she also has a master's degree in management and human relations from Abilene University.
Her newspaper column appeared for several years in newspapers in Texas and North Carolina ~ "Little Known Facts About the Bible" ~ and she has written for numerous Christian publications.
Currently she teaches English over the internet every morning, using the Bible as a text book. Most of her students are Muslims. She has taught some 5000 thus far, and has former students, now Christians, in hiding in Afghanistan, Iran, Iraq, Yemen, Uzbekistan, Jordan, and Palestine. "They are my heroes" she declares.
She is a member of American Christian Fiction Writers and Christian Writers of the West, and is also an energetic public speaker who can touch the heart of audiences.