As the Summer hits its peak I'm looking forward to relaxing in the air conditioning curled up with a good book or two or ten. I have a pile of books to review, and the list of books is off to the right in the upper widget.
Here's a preview of the ones I expect to complete in July: (here's hoping!)
Trial of Injustice
by T. K. Ware
On a Thursday morning in Banker, Alabama the body of a twenty-one year-old woman was discovered murdered. After the police and forensics inspected, with the help of eyewitnesses and fingerprints, the man responsible for the heinous crime was identified as Pastor Thaddeus Ganvis.
Charles 'Esquire' Everson, a man gifted with determination and an avenger of truth, became the most prestigious and sought after lawyer in the state of Alabama, due to his unwavering litigation skills. After finishing another victorious case, he returned to his office. As the day continued, he found himself logging into Facebook, and nearly dropped his phone when he discovered that his former pastor was arrested for first-degree murder.
Without a second thought, he flew to Banker, Alabama to prove the innocence of a godly man. Along the way he discovers the opposition that threatens.
by Katheryn Maddox Haddad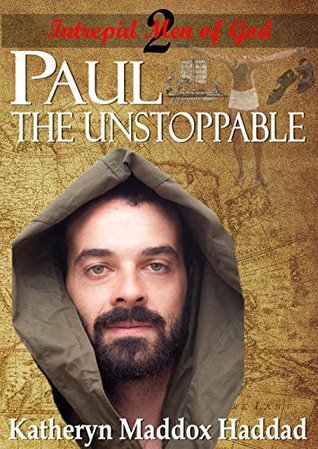 The Apostle Paul is strong. And unstoppable. He walks thousands of miles. He is driven by one goal: Tell everyone about Jesus, their new king. He allows nothing to get in his way.
Dare to experience with him every rod slamming into his bones, every whip lashing through his skin, every breath struggled for when treading water a day and night. Survive with him through all the ship wrecks, going days without food, a snow storm in the Taurus Mountains, being robbed on the highway. Listen as, each time his body is mercilessly attacked, he calls out, "Jesus! This is for you!"
Discover what makes this man tick. In this present-tense book, you will walk with him over twenty years of crisscrossing the often hostile Roman Empire, challenging pagan priests and trying to convince Jewish rabbis to listen to him. Understand what Barnabas, Silas, Timothy, and Dr. Luke go through to keep this man alive to do what he has to do. With Paul, it is never enough. What drives him? Why can he not stop?
Dare to walk with Paul.
by J Oliver Madison
No one at Mitchelstown High has any idea of the double life Carmella Anderson leads. Sure, on the surface, she's a charismatic and geeky student with a crush on a popular skateboarder. But beneath that, she has a decade of experience as a ninja in training.
After shattering generations of tradition in her family's way of the mercenary, Carmella's grandfather began a new tradition – standing up for the few good citizens in her hometown of Blyton. When night falls, she must take on the persona of Karma and bring balance to a corrupt city.
However, her martial arts and arsenal of advanced weaponry may not be enough to track down a beastlike rogue ninja involved in a recent string of murders. Karma will need help from friends, family, and her genetic gift – special abilities unique to her clan – to uncover the mystery behind the killer and bring him to justice.
by J Oliver Madison
Between the Sapphire Moon Clan's assassination attempts, and an evil organization bent on destruction, Karma certainly has her work cut out for her...
Now in her junior year of high school, Carmella must decide how best to handle her secret double-life of a trained ninja. Cheer practice and an internship will have to wait while fending off the deadly shinobi and man-made demons out to kill her and her new boyfriend.
Things take a turn for the worse when the heartthrob ninja from her past returns to Blyton City. With the help of his twin sister, Karma and Akane set out to shine light on the mysterious organization—Arma Deus—before her beloved hometown turns to ashes.
With the villainous intent of Chimera still lingering, it's up to Karma and company to unravel the truth behind their ultimate weapon. And stop them.
Friends, training, and ninjutsu may not be enough this time.
by Jason and Crystal Crawford
Jason and Crystal Crawford were trapped in a loveless, hopeless marriage. They each believed that the only path to happiness was to go their separate ways -- until God showed them something even better. This true story chronicles one couple's quick descent from courtship into an unhappy marriage, and how God transformed their marriage, turning resentment into love and their pain into joy. You will experience the real, raw emotion of both Jason and Crystal through alternating journal entries that show how the husband's and wife's separate perspectives evolve throughout the first 6 years of their marriage and beyond. This unique memoir, written by a couple who are also life-coaches, includes a Relationship Guide at the end of the book which provides help and guidance to couples in similar situations.